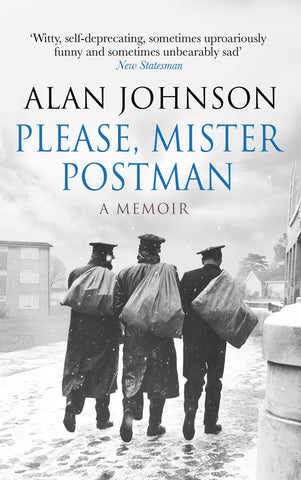 Please, Mister Postman
In July 1969, while the Rolling Stones played a free concert in Hyde Park, Alan Johnson and his young family left West London to start a new life. The Britwell Estate in Slough, apparently notorious among the locals, in fact came as a blessed relief after the tensions of Notting Hill, and the local community welcomed them with open arms.
Alan had become a postman the previous year, and in order to support his growing family took on every bit of overtime he could, often working twelve-hour shifts six days a week. It was hard work, but not without its compensations – the crafty fag snatched in a country lane, the farmer's wife offering a hearty breakfast and even the mysterious lady on Glebe Road who appeared daily, topless, at her window as the postman passed by…
Please, Mister Postman paints a vivid picture of England in the 1970s, where no celebration was complete without a Party Seven of Watney's Red Barrel, smoking was the norm rather than the exception, and Sunday lunchtime was about beer, bingo and cribbage. But as Alan's life appears to be settling down and his career in the Union of Postal Workers begins to take off, his close-knit family is struck once again by tragedy…
Moving, hilarious and unforgettable, Please, Mister Postman is another astonishing book from the award-winning author of This Boy.
Paperback
336 pages

---
We Also Recommend